The Santa Cruz Haggadah


The Santa Cruz Haggadah was written and published in 1991 and named after the town in which its birth took place. How it came to be written is a story in itself that is contained in the Introduction.

In addition to acknowledging the historical Exodus,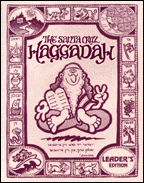 The Santa Cruz Haggadah pays attention to the idea that it is up to us to heal the planet (Tikkun Olam) and free ourselves from whatever holds us back from being the best people we can be. In essence, it nurtures a very interactive seder that encourages personal liberation. Using this haggadah ensures a Seder that is deep, high and fun; meaningful, joyous and memorable for all who participate.

There are several parts to The Santa Cruz Haggadah:

TEXT:
Like the traditional haggadah, its text contains all of the required prayers, blessings, and songs in traditional and transliterated Hebrew; a major difference though is that their translation is gender-neutral and God-name-free. It follows the traditional order of the Seder through all 15 'required' rituals. Humor is added to the text through the use of cartoon illustrations. Both the Leader's and the Participant's versions contain the complete text.

HEBREW TEXT:
A complete hand-calligraphed Hebrew text is included in the Leader's version. Thus these are halachically 'kosher.'

QUESTIONS/MYSTICAL ANSWER PAGES:
There are 36 additional pages interspersed throughout the Leader's Version that perform two functions. At the top of each of these pages is a question that relates to you, to the participants in your Seder, and to what is happening at that place in the haggadah. These questions are used to spark conversation, to trigger ideas and as a guide for personal journaling. They take the rituals and make them meaningful.

Example: "Question 5: While in the midst of thinking about 'letting go' and allowing changes and evolution to occur, it is important to remember the need for supports in our lives. What 'Karpas,' what physical and spiritual supports, do I need right now to help me out of Mitzrayim (the narrow place)?"

At the bottom of each of these pages are the most frequently asked questions about Passover and Seder with answers given from mystical Judaism - from Kabbalah and Chassidut.

Example: "What is the spiritual symbolism of Karpas? The Yismach Yisrael tells us that the fruits of the earth that are used to symbolize Karpas originate underground. This Karpas can be compared to people who may be sunk so low that they despair; they assume that they cannot aspire to higher spiritual planes - it is as if they are underground. He believed that in the same way that the plants that become our Karpas, sprout from the depths and end up in a holy place, on our Seder table, so too can people rise up even to a place of redemption and holiness."

LEADER'S GUIDE:
The Leader's version of The Santa Cruz Haggadah also contains a 20-page guide to leading a Passover Seder with an emphasis on group facilitation. Included are multiple ways of organizing, abbreviating, and/or enriching your Seder.

There are at least three important 'firsts' attached to The Santa Cruz Haggadah:
It is the first personal liberation/psycho-spiritual haggadah to receive across-the-board national distribution- over 50,000 have already been sold. It is the first alternative haggadah to receive Rabbinic acknowledgement and acceptance across the entire Judaic landscape - from the Bostoner Rebbe to Reb Zalman Schacter-Shalomi.
It is the first alternative haggadah to receive only positive reviews nationally in both Jewish and secular newspapers - we know of over 80 newspapers and magazines who have done stories on it.
It has been chosen to part of the permanent core exhibit at The Jewish Museum in New York City, representing alternative haggadot of the late 20th century.

Approximately 300 people a year call us and/or send us letters acknowledging what the haggadah, and the Seder it creates, has meant to them. It seems as if The Santa Cruz Haggadah is used by Jews of all religious affiliations, knowledge bases, and ages; it is used as the primary haggadah and as a supplemental haggadah; and, it is frequently used at mixed marriage, multi-religious, and some Church seders.

That's it. I hope this gives you the information you need.

ORDER NOW

Deluxe Leader's Private Edition* $100

1st Edition* $18

Regular Leaders $18 (while they last)

Participant's $6.95
Kid's Book $4.95
* These editions contain the same text as the Regular Leader's but are the remaining copies of the original two printings of the Haggadah, printed on very fancy purple paper with a deep purple/gold-foiled cover and a wire-o binding These are available only from us and only for as long as we have copies left.