The People Speak


From Cheryl Kurash PhD Setauket, New York.
"..I am the lucky owner of a copy of the Private Edition of The Santa Cruz Haggadah and I am writing you with feedback on its opening appearance at our household. First and foremost, let me say that I love it! It is a sensible and creative blending of traditional and current consciousness, of social and personal, of 'I' and 'Thou,' and it creates a Seder that offers direct personal meaning, solemnity and humor.

" Our household consists of people from Conservative to Reform Hebraic backgrounds, with consciousness ranging from expanded to, well, just beginning. Several members prefer to skip the ceremony entirely and to get right down to the eating. This year, however, we spent more time than ever before in the activities of reading, reflecting, singing, sharing and meditating. Everyone was involved, everyone participated..everyone wanted to keep, and reread, their own copy of the Santa Cruz Haggadah!!

"Good luck!"




From Caren Ex, M.A., LCSW, ACSW Skokie, Illinois
"This is very strange. I have been using the Santa Cruz Haggadah for the past three Passovers and have convened the most meaningful, spiritual, wonderful Seders with it that I can imagine....Now, half-way between Passovers, I feel compelled to write to you and tell you that I have presided over multi-cultural, multi-ethnic, multi-aged Seders in which we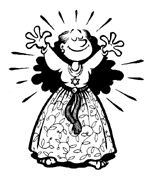 followed The Santa Cruz Haggadah... and have been personally enriched and up-lifted each time. The feedback I have gotten has been incredible. People have been moved. People have re-evaluated their perceptions of Judaism as a result of participating in the e Seders.

"As a psychotherapist, I have used the lessons in the Haggadah regarding 'more' and 'enough' to help clients who are not even Jewish! I have also used other passages relevant to goals in psychotherapy with clients.

"...I look forward with excitement to the next Seder. They are always wonderful and are truly the only past of being Jewish with which I can relate and identify.

"Many blessings to you and all best in your endeavors. Thanks again for being such a special part of our lives."




From Dr. Eli Levine, Union, New Jersey
"Your haggadah demonstrates that Judaism still has some vitality and punch left in it. The vision can't possibly have failed completely if it is still capable of inspiring a work like this. Bravo!"




From Shelly Goldstein MSW, CSW Nanuet, New York
" Though I feel identified with Judaism, in recent years I have found myself questioning more and feeling somewhat discontented with my religious life. I wasn't quite sure of what I needed to change or add to it, as I wasn't at all clear of what was missing. Your version of the Haggadah crystallized what I was looking for - a way of looking at Judaism which not only appealed to my head, but also to my heart and soul. Thank you."