Rabbinic Acknowledgements


JEWISH RENEWAL
Reb Zalman Schacter-Shalomi, Founder ALEPH, The Alliance For Jewish Renewal
" ...what a Haggadah is supposed to do, take you through yitziot Mitzrayim, this one does in the fun-nest way. And in the end, when you come through it, you are changed!"

RECONSTRUCTIONIST
Rabbi Susan Schnur, Editor, LILITH Magazine
"Here's a Haggadah you can use for the next 50 years, still not exhausting its extraordinary possibilities. This is the only Haggadah I know that offers a truly spiritual journey out of Egypt!"

REFORM
Rabbi Lawrence 'Larry' Kushner, Congregation Beth El, Sudbury, Mass.
"..a delightful and dazzling blend of text and graphics."

NON-DENOMINATIONAL
Rabbi Samuel Barth, Dean, The Academy for Jewish Religion
"...familiar texts nestle among contemporary insights, bound together with sensitivity to our history...This haggadah might be turned to with joy by families."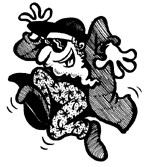 CONSERVATIVE/MEDITATION
Rabbi Theodore 'Ted' Falcon, (formerly) Makom Ohr Shalom, Woodland Hills, Ca.
"..The Santa Cruz Haggadah inspires a reawakening of the Jewish heart and mind, a renewal of our Jewish spirit...every Rabbi and Jewish educator should own a copy!"

ORTHODOX
Rabbi Irving 'Yitz' Greenberg, President CLAL, The National Jewish Center for Learning and Leadership
"... a winning combination of traditional Hebrew text and contemporary consciousness. The translation is illuminating; the insights and exercises will enrich a modern Seder and draw all of the participants into the circle of memory, happiness and holiness."

CHASSIDIC
Grand Rabbi Levi Yitzchak Horowitz Z"TL, the late Bostoner Rebbe, New England Chassidic Center
" ...was glad to find the Hebrew text*, which is of course the most important part...The commentaries, especially those of the great Chassidic Masters, can serve as a positive vehicle for conducting a Seder. The people participation in the special arrangement you have for them is, of course, not what happens at my Seder, but I don't find any negatives there..The beauty of the Haggadah is the fact that it is opened to so many different commentaries. There is no Gadol that did not have a special commentary on Haggadahs..Here's wishing you Hatzlachah in this, your newest endeavor to serve the Al-mighty."