The Santa Cruz Haggadah
and
Kid's Passover Fun Book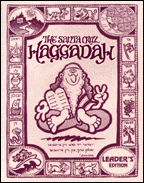 "Why is this Haggadah different from all others?"
"Because it's meaningful, and it's fun!"



The Santa Cruz Haggadah is used by Jews of all religious affiliations, knowledge bases, and ages; it is used as the primary haggadah, and as a supplemental haggadah; and, it is frequently used at mixed marriage, multi-religious, and some Church seders. Over 50,000 have already been sold globally.

"And what about the kids?"
"Make it fun for them, too!"



The Kids Passover Fun Book leads kids through the Passover story with all sorts of games, puzzles, fill-ins, a maze, word games and tons of cartoons to color from The Santa Cruz Haggadah. They can use it to participate if they want to, or as distraction if they don't. Many people give these as Afikomen presents.


We ship anywhere in the world, and will guarantee that orders received by April 4, 2012 for shipment in the U.S. will be received in time for your first Passover Seder!

The Haggadah | Rabbi Speak | People Speak | Press Speak | Continuing Education

Kid's Book | Order Info | Karen Who? | Home Page

For orders and more information, please contact us at:
roekard@santacruzhag.com
510 843-4952


Please note: Our distributor went out of business. All orders must go directly through us.